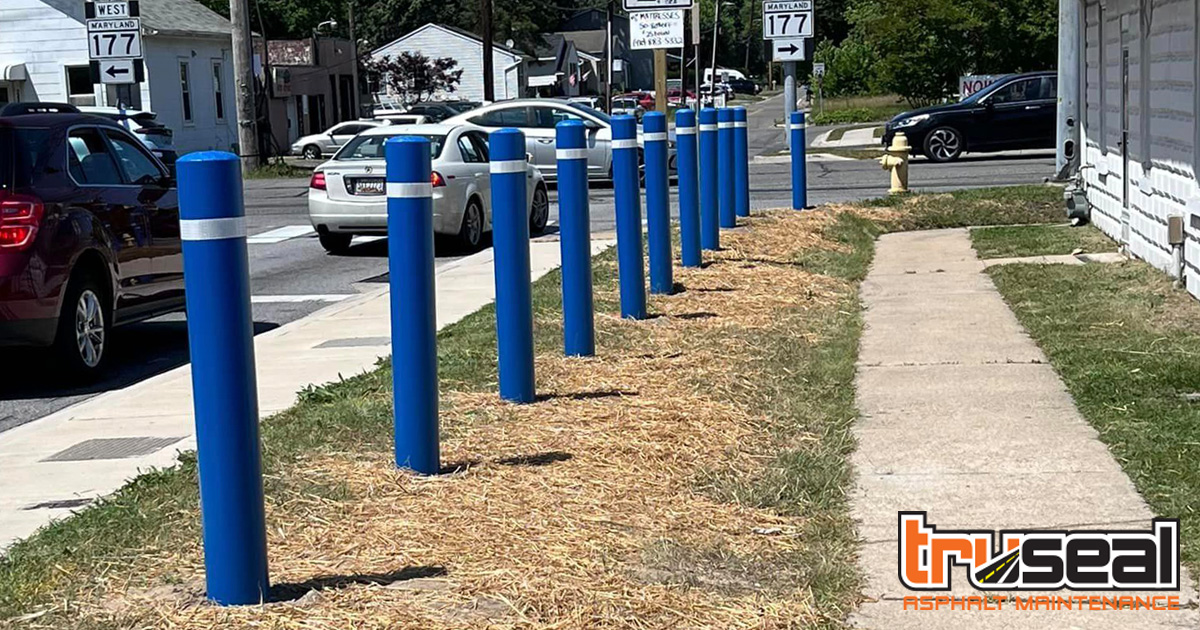 Bollards come in many different styles ad serve a variety of purposes. The object of a bollard is to cordon off an area. They can be permanently built into parking lots or temporarily and easily relocated for indoor and outdoor use. You've seen them anywhere a company wants foot traffic to go a certain way. Companies use bollards when many people are lining up to enter an event. Airports use them to keep security lines structured and moving smoothly.
Architectural design refers to the post section of street lamps as bollards. We are so used to seeing them that it's easy to forget how useful they are in countless instances. Maintaining your parking lot is essential for curb appeal and access for clients. When you repair or seal coat your asphalt parking lot, it is the best time to have them installed. However, you can have them installed most seasons, and the process isn't very disruptive.
Permanent Bollards
Permanent bollards come in a variety of types and styles. Big box stores like Costco have large cement posts so out-of-control vehicles don't hit the building. These are cast iron bollards. Do you need specific parts of your parking lot cordoned off regularly? Lighter-weight posts can have a base secured in concrete or asphalt with a removable post. You can install bollards with an accordion-type post bottom for flexibility while serving its purpose.
Why Install Bollards
Bollards are for the protection of the property and people. Consult with a licensed asphalt contractor about your concerns, property usage, and possible placement of posts. Safety and security are the primary purposes, whether the posts are permanent or temporary. It would help if you inquired with your insurance company about discounts for installing extra safety measures on the property.
Does your company have regular outdoor events? Bollards with a fixed bottom and removable posts are an excellent choice. You can attach the posts whenever necessary, and the base has a cap to keep the interior clean. They make it easy to designate an area for a specific purpose. When your event is over, it takes a person little effort to remove the posts for storage.
Temporary Barriers
You may not need permanent bollards but require some barrier for a specific event. You'll find sturdier ones with metal bases, similar to the ones you see at the airport. Your business's lighter traffic may better utilize the rubber base units. They have clips with retractable belts to easily open up an area without moving the base. They come in different price points and sizes. Facilities can use them to rope off an area from damage or a spill before it's repaired or cleaned up. They are functional and handy to have in case of emergency.
Safety is first and foremost for sound business practices. It would be best if you safeguard your building and visitors. A licensed contractor can advise you on where you should have bollards installed. Call TruSeal today for a free estimate!