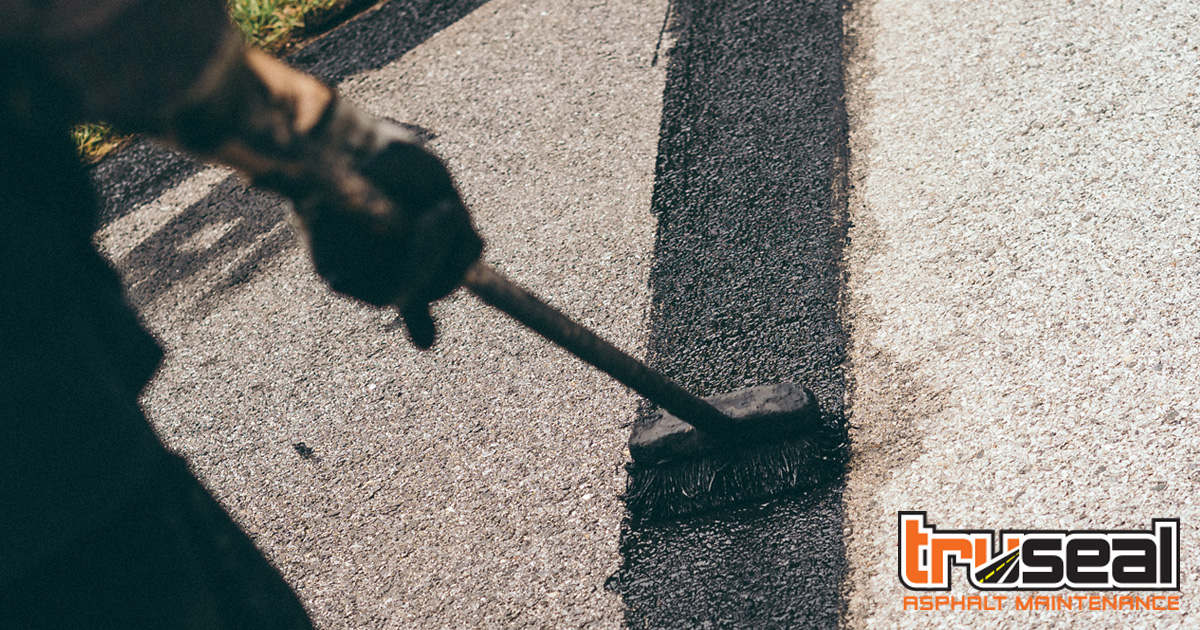 Are you curious about the Best Driveway Sealer Brands on the market? Are you a DIY diehard looking to sealcoat your driveway with the best brand on the market? In theory, sealcoating your driveway isn't complicated. The preparation before sealing your asphalt and the proper set time are important factors. You can kiss that new hardwood floor goodbye if someone walks from the driveway into your home before it's dry. The tracks left behind will also be easy to follow on the concrete walkway. Cleaning that up is a nightmare.
We'll share the best driveway sealer brands and repair products to prep the asphalt before applying the sealer. Are you already hesitating? Would you rather spend your weekend doing something else? Perhaps camping or a road trip is in order. If that's the case, don't feel bad. Call TruSeal Asphalt, and we'll handle the rest.
Best Asphalt Sealer Brands
The sealing industry reaches over a billion US dollars in Google searches. Sifting through all the brands vying for a market share is a big task. We've already done the heavy lifting. It's our job to know the best sealers in the industry because our clients deserve a premier finished product. Here are our two favorite best driveway sealers.
Latex-Ite has been in business producing premium sealing products since 1945. Professionals use their products for residential and projects as large as airports. Do you have a tennis court on your property that needs resurfacing? Latex-Ite is on all types of outdoor playing courts all over the world. The American Sports Builders Association (ASBA) uses this product in ten different colors. Although you could jazz up your driveway, we recommend traditional black. You can stick to potted plants to provide shade and color for resale value.
Rust-Oleum is one of the best driveway sealers on the market. A sea captain named Robert Fergusson started Rust-Oleum in 1921. He was out at sea when fish oil spilled, and it halted the corrosion of his rusty metal decks. He took the products further; now, they are used worldwide to seal residential and commercial surfaces.
Best Driveway Crack Repair Products
You need to repair the cracks properly before sealing your asphalt driveway. Filling in driveway cracks is crucial to a successful finished product. At TruSeal Asphalt, the crack prep work is as essential as the sealer. We've rounded up the best repair products, so you don't have to spend time researching.
Gardner® Blacktop Elastomeric Crack Filler is a rubberized, long-lasting repair for asphalt that expands and contracts with temperature variations.
Qwikrete formulated their product as a high-performance cold patch material for repairing asphalt potholes and cracks over one inch.
Crack-Stix has a lifetime guarantee. It is applied hot as a crack and joint filler for concrete and asphalt.
Crack-Rite is a commercial-grade joint sealant. Professionals pour it on hot. It's ready for traffic in 15 minutes.
Sika, or Sikadur® Crack Fix, is made of two components. It's a multi-purpose, high-strength, moisture-tolerant epoxy resin product.
Rapid Set Asphalt Resurfacer is a cement-based, high-performance, fast-setting crack filler for asphalt repairs. You can walk on the surface in 20 minutes and drive on it in two hours.
Eagle Decorative concrete crack filler comes in different colors and can be applied easily.
If you're still considering DIY driveway sealing, you have all the information you need. You must clean and seal the cracks well, or the sealer won't be effective. This dirty, hot job will eat up the better part of your weekend. Call TruSeal today and make other plans for your weekend. You'll come home to a finished driveway done by the licensed professionals at TruSeal Asphalt. It's worth it!