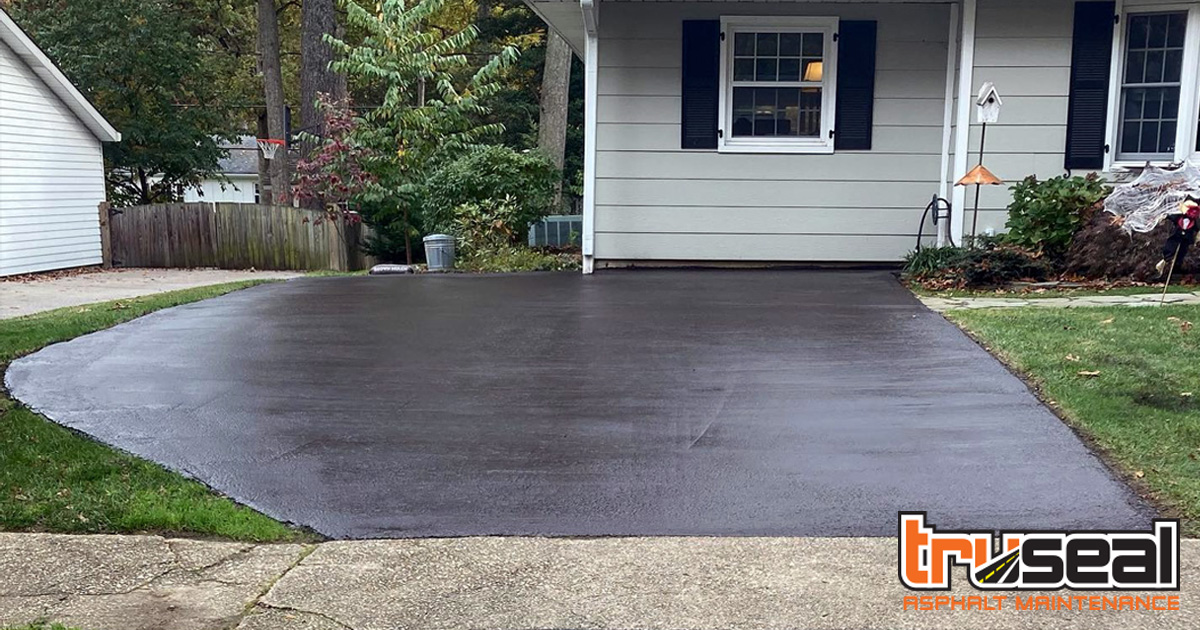 Many factors determine how long an applied asphalt sealant will last, including but not limited to slope, vehicle traffic, nearby stormwater runoff, and of course, application methods. You can improve your driveway or parking lot's longevity by scheduling regular pavement maintenance. Put an asphalt inspection on your to-do list, or add it to your recurring calendar. Time flies; this is another out-of-sight, out-of-mind part of your property, but it is one of the first things you see. Spotting problem areas early is the difference between basic upkeep and costly repaving expenses.
Is your driveway or parking lot beginning to look gray and worn? Over time, the asphalt pavement becomes oxidized from UV radiation, causing that dull, gray color. Combined with other factors, asphalt unravels when it loses the binder material that holds it together, which sealcoating will replenish. Do not hesitate to take action to protect your property's investment and curb appeal. An entrance says a lot about the occupants; keep it pristine and show-ready by sealcoating on a regular schedule. We recommend every 2-3 years or so for residential and 4-5 years for commercial applications.
High Traffic Applications
The wear and tear of a parking lot's high-traffic areas can shorten the pavement's life. When sealcoating high-traffic areas like busy shopping centers or plazas, we recommend a minimum of two coats of asphalt sealer. Entrances and exits receive extra material to endure the high vehicle traffic. Inevitably, this will still frequently be one of the first areas to wear more quickly. Additionally, allowing the applied sealer to cure properly before returning to service is very important. Although a sealer may be dry, it can take up to a few weeks to cure fully. Consult a licensed contractor to determine the best maintenance approach for your driveway or parking lot to protect your most significant investments. They can also advise you on the best time to schedule this service.
Pavement Sealer Types & Application Methods
Firstly, you must choose a licensed asphalt contractor for any potential work that will recommend the proper products and solutions for each project. Both the material itself, as well as the application method can impact its longevity. Sealers should contain sand and additives to add durability and traction for pedestrians and vehicles. Sealers that are overly watered down will not perform as well, either. Please avoid shiny oil-based sealants as they can be very slippery and are often cut with various chemicals to make them not pure. SAFETY FIRST!
A brush or squeegee application for asphalt sealer is optimal because it works the material into the actual voids of the asphalt pavement that have eroded and loosened. This compares to spray application methods that only get the material on the surface layers and often can be very messy.
DIY Asphalt Sealcoating Considerations
You can probably do this project if you are a DIY enthusiast. Following the manufacturer's specifications and preparing the asphalt is vital to avoid disaster. The surface should be clean and completely free of any loose debris. Treat oil stains with a primer to encourage better adherence of the asphalt sealer. Address cracks using a pourable rubberized crack sealant or trowel-able crack material, ensuring the break is completely clean. Choose shoes and pants you won't care about ruining and getting dirty.
Sealcoating is necessary to keep up with the maintenance of your property. Leave it to the professionals and Call Truseal for this dirty job, so you can enjoy your weekends relaxing!